Genealogy of the Wiarda family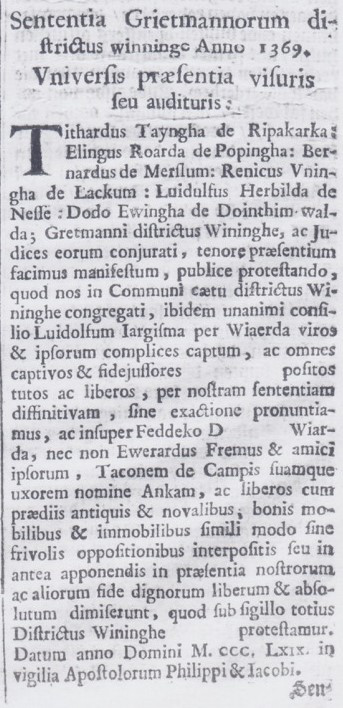 The origin of the Sources
The very first Wiarda found in written sources is Feddeko Wiarda; this is evident in a charter (see text Sententia Grietmannorum districtus winninge Anno 1369) in which the so-called Wiarda-viri (the Wiarda men) capture the chief Ludolf Jarigsma in 1369. In the same year Jarigsma was acquitted by a sentence pronounced by the Grietmen of Winninghen (A grietman -literally: he who greets-is partly a forerunner of the current rural mayor, and partly the forerunner of a judge in Friesland ; later Taco van Campen was also released, who had also been captured by the Wiarda viri. This Feddeko may have been the great grandfather of Sjoerd Wiarda, the potestaat (elected governor) of Oostergo. In the Wiarda Book it is described as follows: April 30, 1369 Grietmen of the district of Winninge pronounce a sentence releasing Luidolf Jargisma and others, captured by Wiarda's group and their party members. That in Domini MCCCLXIX. in vigilia apostolorum Philippi et Jacobi. (See Register of Charter).
On the internet, the origin goes back to Pybe Wyarda from 1245, but there are no written sources for this. The family holds the year 1369 as the origin because of the evidence of the above (court) certificate.
Pybe Wyaerda (1245-unknown)
Doecke Pybes Dooitsen van Wiarda (1270-unknown) and N.N.
Feddeko Doecke Doitzes Wiarda (1310-1369) and Mor Pybe Wiarda-Til (1310 - unknown)
Pybe Feddekos Wiarda (1335-1369) and Claere Wiarda - Van Eminga (1337-1380)
Sjoerd (Siurt) Wiarda 1403 Potestaat (ca 1355 - ca 1410)
Remark: De Haan - Hettema assumes that Sjoerd (Siurt) Wiarda, the potentate, was a son of Pijbe Wiarda (1380) and Clair Emingha, while Hans von Wiarda in Deutsche Geschlechterbuch named Feddeko D. Wiarda in 1369 as the oldest ancestor.
Oene Wiarda (1368-1438) Sjoerd Wiarda (unknown) Sio (u) ke Wiarda (1410-1460) Sio (u) ke was married to Jarich Jelkema
Oene Wiarda is considered by De Haan - Hettema as a brother and by Hans von Wiarda as the son of the potentate. A notice from the State Archives of Leeuwarden shows that this ambiguity has not yet been resolved with certainty
Pibo Wiarda Tsjomme Wiarda († 1473) Idze, 1481 Zytse, 1481
Tzalling Wiarda 1474
Dothias Wiarda († 1498) and Mynthia ab Aytha Pibo Wiarda Oene Wiarda and Syds ab Aytha
THE ORIGIN OF THE DIFFERENT BRANCHES OF THE WIARDAS
The family tree branches through Dothias Wiarda in the 16th century into 4 branches, including the first branch to Germany with Bucho Wiarda as ancestor. The cohesion
Doytse (Dothias) Wiarda † 1498

Bocke D. Wiarda † 1541/1542

Jorrit Tjerksma Wiarda † 1578 Tribe: Roordahuizum-Rauwerd-Bozum Branch: IV-V
Bucho Wiarda † 1595 Tribe: Germany Branch: I-III

Edo (Aede) D. Wyaerda, † 1541

Oene A. Wyaerda † 1587 Tribe: Staveren-Harlingen Branch: VI
Pybe Ac. Wyaerda † 1579 Tribe: Lemsterland Branch: VII
EAST FRIESIAN (GERMAN) WIARDA'S
From Bucho Wiarda (1532 - 1595), the first East Frisian (German) Wiarda to the progenitors of the 3 German branches I II and III
Bucho Wiarda (1532-1595), Licentiate in Law
Dothias Wiarda (1565-1637), Dr. bd. Straight, Chancellor
Tileman Wiarda (1601-1640), Reeve
Dothias Wiarda (1637-1703), Reeve and Council
Tileman Wiarda, (1673-1717), Reeve and Council
Georg Ludwig Wiarda, (1711-1781), Licentiate in Law and Council
Georg Jacob Wiarda (1754-1793), Pastor
Georg Ludwig Wiarda (1781-1832), Justice Commissioner
Christian Heinrich Wiarda Branch I; Georg Jacob Wiarda Branch II; Tileman Wiarda Branch III
FRIESIAN WIARDAS
Pybe Wiarda lived around 1380 and married Claer Eminga and fathered:
1st generation: Oene Wiarda, married N.N., children a.o.
2nd generation: Pybe Wiarda, married N.N., children a.o.
3rd generation: Tjallingh Wiarda, married N. N., children among others:
4th generation: Doytse Tjallings Wyaerda died 1498, married Mints Gerbrants Aytta, died 1.11.1515, children a.o.
5th generation A: Bocke D. Wyaerda (see also the branch: "Roordahuizum Rauwerd-Bozum")
5th generation B: Aede D. Wyarda (see further branches: "Lemsterland" and "Stavoren-Harlingen").
(Previous 5 generations according to "The Studbook of the Frisian early and late Nobility" by Jr. Mr. M. de Haan Hettema and Mr. A. van Halmael, Jr.)
ORIGIN OF THE AMERICAN & CANADIAN WIARDAS
Branch 4/5 Roordahuizum Rauwerd Bozum 16th generation
XVlc. Jelle S. Wiarda, born Tjerkwerd 10.2.1865, from a farm, died ..., married Wymbritseradeel 12.11.1887 Truitje Wijnja, born Oudega (W) 14.1.1866, died ..., dr. Van Jetze and Jantje van der Meer . From this marriage:
1. Brechtje J. Wiarda, b. Hommerts 3.4.1889.
2. Joukje J. Wiarda, born Hommerts 28.7.1890.
3. Sybren J. Wiarda, born Hommerts 23.12.1891.
N.B. Jelle S. Wiarda left for America with his family.
ORIGIN OF THE AUSTRALIAN WIARDAS
Branch 1 (Christian Henrich Wiarda), sub 3 (III)
Carl August Wiarda, b. Emden 5.4.1848 died Sydney, 11.4.1928, called himself Adam Forster, married Mary Smith, Children:
1. Christian Forster 2. Sohn Foster 3. Eisa Foster
NB: Carl emigrated from Germany, first to South Africa and then to Australia where he settled permanently and changed his name to Forster
You can log in for the entire family tree, after which the full family tree of the Wiarda family can be viewed.
GERMAN BRANCH 1 LIFTED IN NOBILITY; WIARDA BECOMES VON WIARDA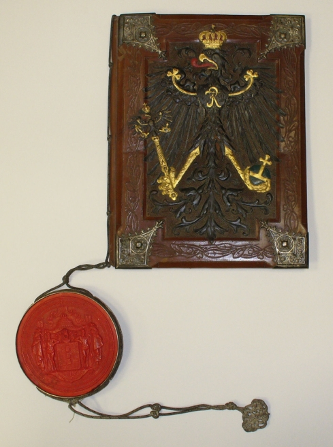 Letter of Nobility
Conrad-Hermann Wiarda (born Emden, March 18, 1841, died December 25, 1915), was a major in the Prussian army. Because the nobility was strongly represented in the higher officer' ranks (and important to advance to those highest ranks), Conrad-Hermann asked Emperor Wilhelm II to be included in the nobility to be put on an equal footing with the other noble officers. He based his application on the history of the Frisian Wiarda family researched and described in 1872 by his father Christian Heinrich Wiarda from Aurich, in which the great importance of the East Frisian Wiarda family was described.
With a cabinet decision of April 17 and a diploma dated July 31, 1895, Conrad-Hermann was raised to the peerage at the new palace in Potsdam. Unfortunately, the heraldry executive nobility agency claimed that the pointed ring around the swan's neck was not heraldically possible. Then, in the two top corners of the shield, 2 stud rings were placed instead of around the Swan's neck. The leather-bound nobility letter was written on parchment, with a large seal and contained in a wooden box covered with leather. This wooden box was located in the study of his son Hans von Wiarda in Hanover in WWII and was unfortunately destroyed by a bomb.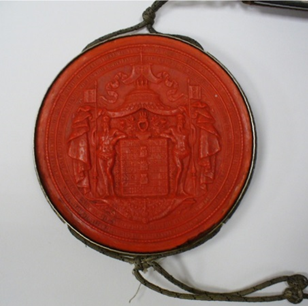 The embossed pavilion seal (wax) with the great royal coat of arms of Wilhelm II.
A few months after his 50th birthday, district court director Florens Hieronymus Eduard Wiarda (born May 19, 1851 in Aurich, died February 2, 1925 in Hanover and brother of Conrad-Hermann Wiarda) as well as his brother Tileman Wiarda (June 17, 1857, died April 22, 1941) were both included in the nobility. On August 8, 1901, Florens and Tileman were elevated to the hereditary nobility by Wilhelm II (Wilhem II born January 27, 1859 in Berlin, died June 4, 1941 in Doorn) .The nobility letter was signed by the German Emperor in his position as Prussian King, by General Karl von Wedel (born 5.2.1842 in Oldenburg, died 30.12.1919), then ambassador to Rome, and by Prussian Interior Minister Hans von Hammerstein (born 27.4.1843 in Lüneburg, died on March 20, 1905 in Berlin), the nobility letter consists of twelve sheets of parchment tied to a dragonfly (booklet) and a cover covered with leather and studded with silver. The nobility letter was signed by the German Emperor in his position as Prussian king, by General Karl von Wedel (born on 5.2.1842 in Oldenburg, died on 30.12.1919), then ambassador to Rome, and by the Prussian interior minister Hans von Hammerstein (born 27.4.1843 in Lüneburg, died March 20, 1905 in Berlin), the nobility letter consists of twelve sheets of parchment tied to a dragonfly (booklet) and a cover made out of leather and studded with silver.
On the front of the cover is an embossed and colored eagle with the bound initials "FR" (Fridericus Rex = King Friedrich) from the Prussian coat of arms. A copper pattern is attached to the silver knitted sealing cords that hold the dragonfly together, which contains the embossed pavilion seal (wax) with the great royal coat of arms of Wilhelm II.
The first two parchment pages are empty. After a handwritten list of Wilhelm's various aristocratic titles starting on page 3, pages 4 and 6 - interrupted by the depiction of the weapon that Wiarda was allowed to use from now on - are followed by the most important passage for the recipient: this document, District Court Director Florens Hieronymus Eduard Wiarda, Lieutenant of the Territorial Army out of service, in Hanover, along with his existing and future lawful legitimate heirs and descendants of the male tribe, of both sexes, to give him a permanent memorial to our special royal [...] grace and to give mercy to the hereditary nobility of our monarchy and our country and to give him and all his intended descendants all the righteous people, honor and privileges of this class, in particular the right to "von Wiarda" and to wear the weapon and jewel described below."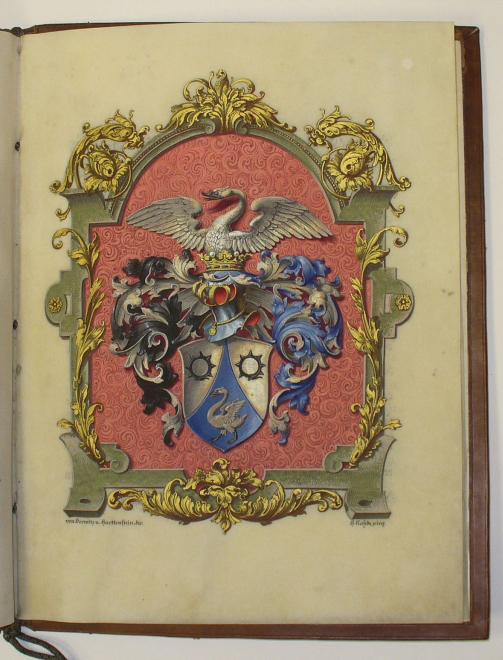 The Coat of Arms of von Wiarda
The coat of arms was designed by Hans von Borwitz and Harttenstein, the Prussian herald master, drawn by the royal coat of arms painter Heinrich Nahde. It consists of a three-piece shield. In the silver fields to the left and right is a black pointed collar, in the blue field in the middle a flight-ready silver swan. A tournament helmet surrounded by black-silver or blue-silver tendrils floats above the shield, which in turn has a crown from which a swan rises with spread wings.
Florens von Wiarda was the son of the city judge Christian Heinrich Wiarda (born August 22, 1809 in Emden, died April 1, 1879 in Aurich) and his wife Dorothee Caroline Metger (born December 23, 1818 in Emden, died September 15, 1904 in Hildesheim) and grandson of Georg Ludwig Wiarda (born January 31, 1781 in Emden, died January 26, 1832 in Emden), one of the founders of the Association of Fine Arts and Patriotic Antiquities in Emden. The father of the exalted - a grandnephew of the country syndicate and historian Tileman Dothias Wiarda (born October 18, 1746 in Emden, died March 7, 1826 in Aurich) - was a local member from 1835 to 1848 and later became secretary -and after moving to Aurich - and honorary member of "art".
This may be the reason why the nobility letter is now in the possession of the East Frisian State museum in Emden.
After the German Revolution of 1918, titles of nobility became part of someone's name. Among the noble families, von is considered a predicate. This predicate has been awarded since 1630 when nobility was granted to distinguish themselves from the non-noble lineages .
BRANCH I
I. Christian Heinrich Wiarda, b. Emden 22.8.1809, gest. Aurich 1.4.1879, Obergerichtsdirektor, diff. Emden 23.5.1838 Dorothee Metger. Kids:
1. Georg W., b. Emden 20.7.1839, gest. Antwerp 2.6.1880, Koopman.
2. Conrad H. von Wiarda, born Emden 5.4.1848, gest. Hanover 25.12.1915, Major. Children:
a. Hans von Wiarda, b. Posen 19.10.1869, gest. Hanover 5.5.1935, Superior
3. Gesina W., b. Emden 26.11.1843, gest. Emden 24.9.1844.
4. Helene W., b. Emden 26.11.1843, sg !. Leipzig 15.12.1894, tr. Aurich 29.5.1872 with Ludwig Treplin, Senate President. Kids:
a. Dorothee, b. 12.4.1873, gest. 8.4.1946.
b. Sophie, b. 22.3.1874.
c. Dina, b. 5.8.1875.
d. Helene, b. 15.5.1877, gest. 8.11.1877.
e. Ludwig, b. 5.8.1879, Ges !. 13.11.1945.
f. Heinrich, b. 24.5.1884.
5. Tileman W., b. Emden 29.3.1846, gest. Aurich 30.4.1853.
6. Carl August Wiarda (Adam Forster; Australian Wiarda's progenitor)
7. Florens von Wiarda, b. Aurich 19.5.1851, gest. Hanover 2.2.1925, District Court Director (his nobility letter is described above)